Name:
zombiegirl
Details:
32 years old (Aries), Female, In Relationship, Bisexual
Location:
Edinburgh, Scotland, United Kingdom
Profile Link:
www.faceparty.com/zombiegirl


In my own words


Hey there!:)
well my name is Stacey,I am friendly and like meeting new people:)

I love all kinds of metal but my favourite is Black Metal<3Gothic,Industrial,Alturnative and loads more...:)

Some of my fav Bands:
~Type O Negative~
~Deathstars~
~Cradle of filth~
~Behemoth~
~Immortal~
~Sunn O)))~
~Bolt thrower~
~Black Sabbath~
~Saint Vitus~
~Electric Wizard~
~Acid King~
~My Dying Bride~
~Rob Zombie~
(and love many more...:D)

Things i Love:Friends&Family<3,Hugs&Kisses,Music,Partying!!!: D,Gigs,M y Phone:),Candles,Zombies,Vampires,Blood,The Dark,Black cats,Stars,Piercings,Tats,Horror films,Nail varnish,Make-up,Hair dye,Crazy hair,Gothic clothing,New Rocks,Doc Martens,Guitars,Guys with long hair,Castles,Haunted Mansions(and many more things...:)

If you want to know anything ask away i don't bite come say hi:) xx

My Best Day...


When i went to my first Heavy metal festival (Hellfest) in France on the 13th of June 2012 and loved every minute of it definatly gonna go to more festivals in other countries such as Germany and so on... :D :D :D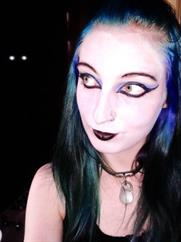 offline

Send message
Add friend
Add to hotlist
Rate member
Report member
one 2 one
View photos (83)


Favorite Things
Food
Cheese,Salad,Baked potatos,Tiramasu <3
Music
I <3 all types of heavy metal,Industrial etc...:D
TV Show
Hollyoaks,Vampire Diaries,True Blood etc...:D
Movie
The Lost boys,Queen of the damned,and so on...
Author / Book
I don't read that much.
Night Club / Bar
Opium.Studio 24,Banshees,Black rose
Animals
Cats&Tigers <3
Person
My friends Love yous!:)xxx
Place
Florida :)
Possession/Thing
Music,Phone,Make-up My Kitty Lilo!<3

Details
Last logged onCool Tools™ only
Advanced statsCool Tools™ only