Name:
Rozzele
Details:
32 years old (Taurus), Female, Single, Straight
Location:
Mexborough, South Yorkshire, United Kingdom
Profile Link:
www.faceparty.com/xslavetosex


In my own words


Name: Rozzele
Age: Twenteen (14-05-1991)
Location: Mexborough
Relationship: Single
----
Right, so we've done the basics, here goes I have my own house, car & pay my own bills, I work hard, I party harder, I have fun, I don't care what people think off me, I am who I am, deal with it.
I deserve a lot less crap & a lot more affection, games are not for me. I've made plenty off mistakes, regret none, I've learnt & grown from them.
I'm crazy, happy, sad, mental, independent, sarcastic, immature, grown-up, a bitch, friend, enemy, agony aunt, all mixed in to one package which you probably can't handle.
---
Right, call me sexy, fit or whatever you won't get my msn, number or sex, its pathetic tbh.

Blog
Pointless rant

Been bored looking round at photos and most girls on here are so fake i dont mean that as in stealing peoples photos I mean plastic looking I haven't seen one profile yet where a girl isnt plastered in 6inch of the stuff, Why?
I have make up on a few but not everyone I'm not covered in the stuff, and i don't look bad and what happened to natural beauty?

The Meaning Of Life...


Live it.. plain and simple nothing more.. its what you make it.


Comments
10 of 459 | post a comment | view all

montytheowl

wrote...

hey hows you? looking very nice in your pictures :) decent profile too xxx
send message

xxxlukexxxx

wrote...

eloo bbe hows u just seen ur profile u look fuckin stunnin fancy a chat?? Xxx
send message

danny_boy_boro

wrote...

hey goreous
hows u?
have u had got much planned for weekend ?
wb danny xxx
send message

ianb1985

wrote...

heya how are ya, you look amazing in your pic and sound really nice hun, i think you look amazing and those eyes are gorgeous hehe, just wondered if you fancied a chat or something sometime id love to get to know you better your gorgeous lol xx
send message

mrfish27

wrote...

Hello! How's you? You've been busy haven't you! Good new year? X
send message

garyspin

wrote...

If you fancy a chat my facebook is Gary Spinner Lee xx..
send message

clueless25m

wrote...

hello there stranger...
how r u today ?
wanna chat sometimes on any messenger?
send message

zak_lfc

wrote...

your gawjuss :O
send message

richyb85

wrote...

Hay princess how r u my name is rich and im a scaffolder from swindon u fancy a chat sumtime x
send message

inthemood

wrote...

Hot x
send message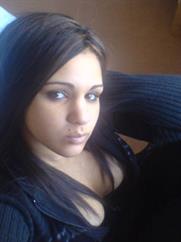 offline

Send message
Add friend
Add to hotlist
Rate member
Report member
one 2 one
View photos (64)


Favorite Things
Food
Everything
Music
Everything
TV Show
Big Bang. Charmed.CelebJuice.SingIfYouCan
Author
J.K.Rowling or Stephenie Meyer
Movie
Everything
Night Club / Bar
South, Spoons.
Animals
Sloth From Ice Age :]
Person
My Mum or Nan
Website
Click here to view
Place
Clubs.Pubs.WitFriends . Bed
Possession/Thing
Friends&Family.Bed.Ph one.

Details
Last logged onCool Tools™ only
Advanced statsCool Tools™ only