Name:
Vicky
Details:
39 years old (Cancer), Female, In Relationship, Open Minded
Location:
Cheshire, United Kingdom
Profile Link:
www.faceparty.com/stcikyvicky


In my own words


Right Peep i dont realy know what to put so sorry if its a lode of bubbls..I live in runcorn witch is a realy bad shit hold lol:( I work a lot and dont get to play a lot:(. I love my frends an family, corsa's well mine anyway lol, music, bit of bassline,hiphop,R&B,Old skool, a nice glass of southern comfort lemo and lime, or the old Vodka an coke, sexy ANDY, cookie dough ice cream, bananas an cream,chatin on heleam, saggy hoodies that i can hide in, shirts that are to big for me, fluffy socks,stormy nites when am snuged up in bed,piercings,Tatto's, doggin with me mates lol,shaby hair'ed lads, blue eyes,cold shower, warm bubble baths, driving, fast cars,D1 Drifters, being random, late night conversations on msn lol, chattin bubbles,watchin films, good old house parties, fresh covers on my bed,car cruises.
If you want to chat message me:) plz if ur a purv then bog off now, i dont do the hole sittin on cam an flickin my bean sorry. x


If I was a Millionaire...


id give my family everythink they ever wanted, an id have a dam rude fast ass car lol :) x


Comments
10 of 87 | post a comment | view all

unouwould

wrote...

cheeky....me? hehe i dont know what you mean ;) hope your ok chick x
send message

unouwould

wrote...

its only cos your name rings a bell lol even if we didnt hi! lol x
send message

unouwould

wrote...

hey...tell me if im wrong here, but did we use to chat like yrs ago? lol xx
send message

decb

wrote...

well hello sexy!! how u doin? xx
send message

lee-06

wrote...

yer i ok just still trying 2 get bk on me feet after this op. yer i wiv her still this is good going 4 me ha ha. aww i hopeing 2 go there agin this year u wiv av 2 pm me ur num i not got it no more.xxxx
send message

subsidian

wrote...

Gorgeous x
send message

lee-06

wrote...

ha ha i could take u 2 a whole new world wiv a good licking woman ha ha. u ok wot u bin up 2?x
send message

the_ace_of_clubs

wrote...

hey trouble how are you? x
send message

rude_boi

wrote...

i wudnt say no lol
send message

_xbarbix_

wrote...

thanks for comment xx
send message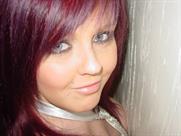 offline

Send message
Add friend
Add to hotlist
Rate member
Report member
one 2 one
View photos (163)
View videos (2)


Favorite Things
Food
any form of fish. chines
Music
Dance, R&B, Hiphop, funky house,old school
TV Show
dont realy watch tv, dont get the time.
Movie
Butterfly Effect, Jack Ass
Author / Book
Martina Cole, Dave Pelzer, John Connolly, an more
Night Club / Bar
161, 53,2kinky (view) lol
Animals
p u s s y cats
Person
Matty, Amy, nan,mum.ANDY
Website
Click here to view
Place
In bed,andys bed
Possession/Thing
my mobile .. tongue piercing..paret

Details
Last logged onCool Tools™ only
Advanced statsCool Tools™ only