Name:
Ben
Details:
33 years old (Leo), Male, Single, Straight
Location:
Northallerton, North Yorkshire, United Kingdom
Profile Link:
www.faceparty.com/stallions44


In my own words


Let's get a couple of things straight:
1) I've come to know who I am lately. I'm not a dick. I was pleasantly surprised.
2) For the most part, people piss me off. But I'll always welcome people who can show me I'm wrong.

Moving on...I tend to find that the people who are really, truly themselves are the ones who attract me most. I admire that, whether in friendship or in an attractive girl.

I'm trying to adjust to single life again...I had it down completely once over, but not so much anymore.

I'm kind of at a crossroads in my life...I feel change is coming, but I don't know how or when.

Either way, get in touch.


Comments
10 of 145 | post a comment | view all

solosd10293

wrote...

looool ermm okay lol .. x
send message

solosd10293

wrote...

ohh yhh me 2 proper liked it .. and haha the rock will win u can tell x
send message

solosd10293

wrote...

lmao i watched dat tooodaayyy haha catdog lolz x
send message

solosd10293

wrote...

lmao yeah i do i liked ed edd n eddy lol x
send message

lildanyell

wrote...

Fair enough, but I'm quite a simple being. Give me a good game and a console I can understand and I'll be happy for hours.
I've only recently started reading his books (my dad's been a fan for years, and I decided it was time I gave them a go) I'm still on my first one, Johnny and the dead at the moment, but his writing style is amazing! x
send message

lildanyell

wrote...

I quite like Terry Pratchett aswell, you clearly have good tastes.
I'm never actually been on a ps3, I have an xbox, GTA and Star wars & Indiana lego, therefore xbox is my favourite :) haha x
send message

__siobhan

wrote...

No way jose! x
send message

eek___

wrote...

I never thought I could either! I would still love to teach secondary, but primary kids are funny! I want to be one of those eccentric drama teachers that every school has...
ah yeah, i know what you mean about topshop staff! they clearly must have known, you must radiate cool vibes or something..
x
send message

eek___

wrote...

Oooh that sounds goood :) I was volunteering in my old primary school for a bit after i got back there, I loved it! kids are so funny, if ridiculously cheeky sometimes!
ha, don't get me wrong, I like a bitta topshop every now and again, but I don't buy everything in the shop, including a minging jumpsuit or whatever's supposed to be fashionable :)
x
send message

eek___

wrote...

Seville sounds great, as long as we can go to Vienna at some point, it's not very hot but for some reason i've always wanted to visit Austria :S
ahhh that sounds really interesting though! Drama's not as amazing as it sounds, course was full of girls who were wearing the whole of topshop and thought they were gonna make it big! i just wanted to be a teacher, haha
x
send message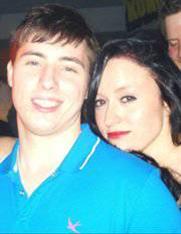 offline

Send message
Add friend
Add to hotlist
Rate member
Report member
one 2 one
View photos (5)


Favorite Things
Food
I like good food, not junk. That's about it.
Music
Punk, Rock, Hip-Hop, Dance, Reggae...all sorts
TV Show
Heroes. Always Heroes. Heroes = win.
Movie
Too many...
Author / Book
Pratchett, de Bernieres, Tolkien, Steinbeck...
Night Club / Bar
I frequent many. I like very few.
Person
LaDainian Tomlinson, Juninho, Ian D'Sa+ lots more

Details
Last logged onCool Tools™ only
Advanced statsCool Tools™ only