Name:
Stephen Horan
Details:
42 years old (Cancer), Male, Single, Open Minded
Location:
Manchester + Liverpool, United Kingdom
Profile Link:
www.faceparty.com/sjh2


In my own words


IM: [email protected]

FAVORITE WORDS: Bulbous, Moist, Scourer, Sponge, Tissue, Aubergine, Soupçon, Gash, Pulp, Constantinople, Smorgasbord, Aphrodite, Slither, Exponentially, Hither, Ergo, Whom, Flabbergast, Squelch, Etcetera, .... more to come

MUSIC: Muse, Faithless, Bjork, Craig Armstrong, Eddie Halliwell, The Killers, Goldfrapp, Kate Nash, Jack Penate, Hot Chip, Snow Patrol, Just Jack, Arctic Monkeys, Primal Scream, Foo Fighters, Garbage, Eric Clapton, Alecia Keys, Moby, Amy Winehouse, Lilly Allen, Greg Vickers, Nik Denton, Berlioz, LAB4, Groove Armada, Drew Scott, Radiohead, Anthony and the Johnsons, Prodigy, The Beta Band, David Bowie, Basement Jaxx, Groove Armada, Blur, Gorillaz, Daft Punk, Estelle, Kate Nash, Garbage, JK, Lab 4, Moby, Sugarcubes, Sneaker Pimps, Louis Armstrong, Sigur Ros, Holy Fuck, Just Jack, The Chemical Brothers, Elton John, Prince, Bent The White Stripes, Massive Attack, Tom Baxter, Prodigy,

Blog
2 posts | view all
On The Seventh day

God Created the SOCIABLE JUNKIE!

I have been helping a couple of mates get their new club night off the ground by designing their flyers and Website. Check out www.sociablejunkies.co.uk it is the opening night this Friday and I am Sooo lookin' forward to it.

I am fed up of traveling out of Manchester for a Good-Night-Out. It's about time we brought it home!

See you there perhaps?

My Mum Says...


"If you have not got anything interesting to say, then don't say anything at all".


Comments
1 of 1 | post a comment | view all

gm1p

wrote...

you wanna shag
send message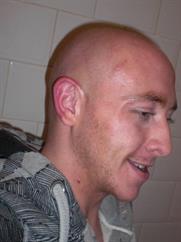 offline

Send message
Add friend
Add to hotlist
Rate member
Report member
one 2 one
View photos (21)


Favorite Things
Food
Italian, Indian, Pub grub ...etc
Music
Jamie T, Muse, Hot Chip, Radiohead, White Stripes
TV Show
Eastenders
Movie
Beetlejuice / Drop dead Fred
Author / Book
Liz Jensen (the Paper eater)
Night Club / Bar
Sankeys Manchester
Animals
Dog
Person
Mum
Place
Manchester
Possession/Thing
Soap / MacBook

Details
Last logged onCool Tools™ only
Advanced statsCool Tools™ only