Name:
Steven Wilcox
Details:
38 years old (Virgo), Male, Single, Straight
Location:
Chester, Cheshire, United Kingdom
Profile Link:
www.faceparty.com/shteveo


In my own words


don't really know what to write here, im just an average feller i suppose.

Music is my passion.

Sweet.

The Meaning Of Life...


Thought i'd list some of the music that inspires me

Radiohead, The Smiths, David Bowie, The Who, R.E.M., The Verve, Jimi Hendrix, Black Rebel Motorcycle Club, Lowline, Led Zeppelin, The Rolling Stones, Blur, Oasis, Nirvana, The Jam, The Kinks, Joy Division, Bob Dylan, Jeff Buckley, The Beatles, Traffic, Cream, Jeff Beck, BB King, The Libertines, The Stone Roses, The Ruling Class, Ride.

Comments
10 of 15 | post a comment | view all

miss-morphine

wrote...

Haha, awesome. I'm not fat or ginger & I don't have the personality of a wet fish though (unless people have been lying to me?) :(
send message

__siobhan

wrote...

People keep telling me to cut it like that again...I'm not dying it blonde again though :p x
send message

miss-morphine

wrote...

lovely. :] you say that like you've been a scrooge previous years? I def have and this year i decided i'm not gonna be haha. Oh shit, all work and no play...what's all that about? What's your job? Gotta keep the balanceee. x x (and thank you.)
send message

miss-morphine

wrote...

yeaaah we'll negotiate to 2 ;]
i've been pretty great, how about yaself? what you been up to? x x
send message

miss-morphine

wrote...

you have just described my ideal life...I'M THERE x x haha (perhaps change the 12 to 2...)
send message

laydee-loz

wrote...

sup chester.
send message

zaza4eva

wrote...

Was it too cheeky of me to ask for me to be added to ya msn then?lol sorry xx
send message

miss-morphine

wrote...

WHAT. coming back with more money than you left with, surely that can't be right.
haha no, well done. i know a few people who live off playing poker...someone needs to teach me right now. :]
yeah i had a good night too.
however i'm so poor i had to resort to cheap wine and now have the dreaded wine headache x
send message

hollyrose2k

wrote...

Thanks for comment :)
send message

hannyanny17

wrote...

hey thanx the pics have finally pended now haha!
send message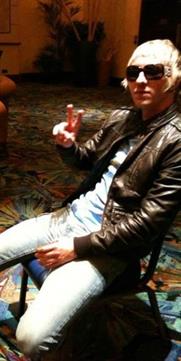 offline

Send message
Add friend
Add to hotlist
Rate member
Report member
one 2 one
View photos (46)


Favorite Things
Food
my mums roast dinner
Music
makes the world go round
TV Show
south park, sharp, discovery, football, mtv2
Movie
quadrophenia
Author / Book
kipplin
Night Club / Bar
telfords warehouse
Animals
elephant
Person
paul weller, what a leg
Website
Click here to view
Place
the RICOH ARENA
Possession/Thing
My Car or my Gibson 330 guitar

Details
Last logged onCool Tools™ only
Advanced statsCool Tools™ only