Name:
Carla
Details:
33 years old (Libra), Female, In Relationship, Straight
Location:
Croxteth, Merseyside, United Kingdom
Profile Link:
www.faceparty.com/scouse_carla


In my own words


X hello there! My names Carla am 22 years old, ave got blonde hair brown eyes and am a bit of a short arse! I love.... Music my family, money, going out shopping, my fab niece and nephew.... Fake eye lashes.... Pretty nails, make up, my mobile phone and my ghee
I hate.. Lads who think they are gorgeous and play girls... Nobs, smack heads, people who give their kids away, getting up early for work, hangovers, when my nail snaps and when my mum is I'll

Ave got the best mum dad sisters boyfriend niece and nephew in the whole world...love them lots x x x

Blog
2 posts | view all
x the one x

xXx Wait 4 the 1 who calls u beautiful insted of nice xXx Who phones u bak wen u hang up on them xXx The 1 who never lets u down xXx Who loves you 4 who u r n doesnt just want 1 thing xXx Wait 4 the 1 who stays up 2 watch u sleep xXx who reminds u everyday how much they love u + how lucky they r to have found u mwahhh xXx n who would do n e thin jus 2 b wiv u n that ur the most important thing 2 them xXx

The Meaning Of Life...


x As u grow up, u learn tha even the person tha was never supposed 2 let u down probably will. U will have ur heart broken probably more than once + its harder everytime, u'l break hearts 2, so remember how it felt when urs was broken. u'l blame a new love 4 things an old one did. U will eventually lose someone u love. So take 2 many pictures, laff 2 much an love like u'v never been hurt becoz every 60 secs u spend upset is 1 minute of happiness u will neva get back...


Comments
10 of 23 | post a comment | view all

kieran_surridge

wrote...

[email protected] peopl
send message

kaylee_891

wrote...

Nice pics, hope ya dont mind me saying your gorgeous, let me know if you wanna chat. x
send message

jmc28

wrote...

heyy hun ows things ?? so how come u nevr reply then ?? is it the no pic thing?? i lok like a proper div on pics bbe lol x add me 2 msn n i can give u a wave on webcam k hun ? just blcok me if im mingin , its cool haha x tell u wha , if u laugh at this joke youve gotta reply k ?? :) whos the most liked person in a hospital ??.... the ultra-sound guy! haha x any good ?? :) na didnt think so lol ,, add me anyway ye? lol x/... ever1 [email protected] chat soon opefully x
send message

armyguy015lad

wrote...

Hi just saw u on here and thought id say that u look BEAUTIFUL in ur pics hope u dont mind me sayin... u fancy a chat?? Msn??? xx
send message

danny2k9

wrote...

hey hunni hows u fancy a chat xx
send message

welsh89

wrote...

hey bbe yu ok wuu2 thn
anythin mch then
i was just lwkin at yur pofile
and yu seem a nice person to talk as
a frend is it ok if i cn hv yur msn
pls wb x
send message

jmc28

wrote...

heyy hun hows things?? im alan frm livrpool xx ive messaged u a couple of times but u aint replied, u gotta reply if u laugh at this joke ,, deal ?? lol xx ,, on the way 2 work the other day i noticed an RAC man sat in his van , sobbing uncontrolably, with his head in his hands... i thought 2 myself , that mans heading 4 a breakdown! lol x its [email protected] m anyways hun ,, p.s ive got better 1s dont worry ,, i cud put my cam on 4 ya ,, tha shud give u a laugh if nothin else! haha x chat soon o
send message

mrshawmgzr

wrote...

hello there :P:P any chance of ur msn addy ?? wb let me knw xxxx
send message

blueboys2006

wrote...

whats goin on ball bag
send message

x_mq_306_x

wrote...

not to bad babe. add me [email protected] x
send message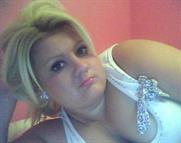 offline

Send message
Add friend
Add to hotlist
Rate member
Report member
one 2 one
View photos (20)


Favorite Things
Food
Chicken fried rice
Music
Dance × Funky × RnB x Scouse x
TV Show
Eastenders x Towie x
Movie
<3 Love [ && ] Basketball <3
Author / Book
x Kate Price x
Night Club / Bar
Loads!
Animals
My Dogs <3
Person
X×°×X <3 Luca Paul Lambrou X×°×X
Website
Click here to view
Place
Bed ;-)
Possession/Thing
Me Phone × Straightners ×Money, Lip Gloss, Laptop

Details
Last logged onCool Tools™ only
Advanced statsCool Tools™ only