Name:
Natalie
Details:
35 years old (Capricorn), Female, Single, Straight
Location:
Kent, United Kingdom
Profile Link:
www.faceparty.com/natalietit


In my own words


Makes me Happy:Being a Mum, Laughing til it hurts, Old people holding hands, The song build me up buttercup, Getting to know someone you like, Being in love, Summer, Snow, Shopping, Shoes, Handbags, Becca (there is not a better girl in the world!) We've had the time of our lives!! Gary, Elyshia, Mum, Stephen, Harriet, Clubbing, Dancing, Singing, Cuddeling,Kissing, Memories,
Things that make me sad: Cheats, Liars, Backstabbers, Rain, Cold, Crying, Madonna, Work, Splitting up, Being poorly, Hangovers, Slow drivers, Phone Bills,Bank Statements!!

My Eternal Dilemma...


(1)Why doesn't glue stick to the inside of the bottle(2)When people say to you what 3 things would you take to a desert island no one ever says a boat(3)What shape is the sky?(4)You know the black box that is used on planes, why can't they make the whole plane out of the same substance?(5)Why is it that when you're driving and looking for an address, you turn down the volume on the radio?(6)if cows laugh hard enough does milk come out their nose


Comments
8 of 8 | post a comment | view all

gaykent

wrote...

its been too long sice i last commented on ya profile!! hows my bun doing cooking in your oven? will be going to ikea soon to buy ya some bits and bobs! yay!! xxx
send message

gaykent

wrote...

nat.... i have a problem.... when cows laugh does milk come out their nose? hahaha that still makes me chuckle thinking about that night! loves ya hunny xxx
send message

gaykent

wrote...

natters is the most sexual dancer xxx
send message

gaykent

wrote...

oh my god!!! im so excited!!! i can shop in baby gap now yay!!! have seen some baby clothes on the net with stuff written on them like 'i ripped mummy a new one' and 'mummy drinks because i cry' so thinking forget baby gap and buy them insted lol loves ya snuggle bunny xxx
send message

gaykent

wrote...

haha that was sooo funny and such a wicked day!!! you and niels will deffo have to do the 'leap of faith' at each other in the middle of the dance floor again!!! loves ya my scrummy bunny!! xxx
send message

gaykent

wrote...

oi lesbo where ya been??? i aint herd from ya! its our aniversary at the end of this month!!! werid huh! loves ya xxxx
send message

gaykent

wrote...

im still laughing about you kicking the cat last night it was well funny!!! im gunna see if i can put the video on my page on here and my myspace lol it was a natalie classic moment! love ya hunny xxx
send message

gaykent

wrote...

OMG girls aloud was the best! then rogue traders for the second time in one night! they were wicked! wouldnt have been half as good without you and sonny tho! love ya hun xxx
send message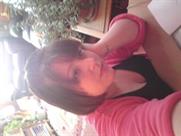 offline

Send message
Add friend
Add to hotlist
Rate member
Report member
one 2 one
View photos (17)


Favorite Things
Food
Shephards pie
Music
Anything
TV Show
Big Brother, X factor, Project Catwalk
Movie
Dirty Dancing, Pretty Woman all the chick flicks!
Night Club / Bar
Give me my mates, bar,dance floor I'll be happy
Person
My son
Place
Anywhere with my mates. New York was splendid.
Possession/Thing
Material things just don't seem to matter anymore

Details
Last logged onCool Tools™ only
Advanced statsCool Tools™ only