Name:
lee
Details:
32 years old (Pisces), Male, Single, Straight
Location:
manchester, heywood, Manchester, United Kingdom
Profile Link:
www.faceparty.com/manunitedlad


In my own words


ID SAY I WAS CAREER DRIVEN AND VERY IMAGINATIVE, BUSINESS WISE WE HAVE JUST VIEWED A LOCAL PREMESIS ARE ARE CONSIDERING IF TO SEND PROPOSAL,INTENTION IS TO OPEN OUR OWN INTERNET CAFE,AND ALSO GET INTO THE CORPORATE ENTERTAINMENT BUSINESS AS A SIDELINE.SOCIALLY WELL CANT BEAT A GOOD NIGHT OUT,ESPECIALLY THE ONES WHERE YOU LOOK BACK AND THINK WHY THE FUCK DID I DO THAT!!! I LOVE TO GO TO CINEMA,RESTARAUNTS ETC,OR RELAX WITHA DVD,TAKEAWAY,DRINK AND MAYBE MORE LOL.I KNOW HOW TO TREAT A GIRL AND I KNOW CHOCOLATE AND FLOWERS AINT ALWAYS THE WAY, ITS THEM MOMENTS YOU PROVIDE THEM WITH, THE SUPRISE, THE TENSION, AND THAT SOMETHING EXTRA THAT GIVES YOU DATE NUMBER 2.LIKE TO HAVE A LAUGH AND MEET NEW PEOPLE, IM VERY OUTGOING AND WILL TALK TO ANYONE,HATE PEOPLE WHO LOOK DOWN THEIR NOSES AT OTHERS THINKING THEYRE BETTER, WERE ALL THE SAME REALLY JUST LEADING DIFFERANT LIVES,REMEMBER THE KING AND THE PAWN GO BACK IN THE SAME BOX. HOW CLEVER OF ME LO

Blog
LOVE

DO YOU WANT ME TO TELL YOU SOMETHING REALLY INTERESTING? LOVE IS EVERYTHING ITS CRACKED UP TO BE! THATS WHY PEOPLE ARE SO CYNICAL ABOUT IT...IT REALLY IS WORTH FIGHTING FOR, BEING BRAVE FOR, RISKING EVERYTHING FOR,AND THE TROUBLE IS IF YOU DONT RISK ANYTHING, YOU RISK EVEN MORE. I BELIEVE THAT 2 PEOPLE ARE CONNECTED AT THE HEART, IT DOSENT MATTER WHO YOU ARE WHAT YOU ARE OR WHERE YOU LIVE, THERE ARE NO BOUANDRIES OR BARRIERS WHEN PEOPLE ARE DESTINED TO BE TOGETHER, AND REMEMBER { carry on below

My Eternal Dilemma...


carried on from blog, had no room,

IN THE MATHS OF THIS, ONE PLUS ONE EQUALS EVERYTHING, BUT TWO MINUS ONE EQUALS NOTHING. ERM, AND OH GOD IVE JUST CLICKED HOW FEMINIE IS THIS PROFILE LOL, OH NEVER MIND ANY LESBAINS WANNA CHAT??? SEE THERES ALWAYS A WAY OUT.


Comments
5 of 5 | post a comment | view all

xx_sxy_bby_leanne_xx

wrote...

lol its mint lol love it ....x
send message

nataliesarah

wrote...

noooo u got it all wrong mcvities jaffas haha i dnt like cadbury 1s there not as nice but i spose a jafa is a jafa
send message

lauzzaxxx

wrote...

thanks hun :] Hows you?
send message

loulouxx9

wrote...

hey lee just a lil msg to say happy bday 4 tomoz hope u av a brill day u deserve it xxxx
send message

loulouxx9

wrote...

1. Whats your Name?LOUISE
2. Are we close?BEZZIES
3. What do you think of me?REALLI FUNNY
4. Do you fancy me?YES
5. Would u kiss me?YES
6. In what way? PASSIONATLY
7. Describe me in 3 words?LUVLY,RELIABLE,HILERIUOS
8. If u could ask me anything what would it be?WEN CAN WE GO BK TO PARCELFORCE
9. What was ur first impression of me?FUNNY
10. Do u still think the same?YES BT ALOT FUNNIER
11. What reminds u of me?MICHEAL BUBLE N CHOC TRIFFLE
12. If you could give me anything what would it
send message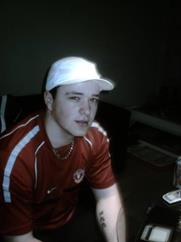 offline

Send message
Add friend
Add to hotlist
Rate member
Report member
one 2 one
View photos (50)


Favorite Things
Food
Indian Or Chinease
Music
Anything i dunno, erm, anyhting
TV Show
Only Fools And Horses, Shameless, M.O.T.D
Movie
Hitch, Step Up, The Business,School Of Rock
Author / Book
Dont Have Much Time At The Moment
Night Club / Bar
Anywhere You Make Your Own Good Night
Animals
Rottwieler Love em, Miss Mine.
Person
Cant Pick Between All The Family
Website
Click here to view
Place
Yours Or Mine? Lol
Possession/Thing
What With All The Questions

Details
Last logged onCool Tools™ only
Advanced statsCool Tools™ only