Name:
lily92x
Details:
31 years old (Capricorn), Female, Single, Straight
Location:
Wiltshire/Somerset, United Kingdom
Profile Link:
www.faceparty.com/lily92x


In my own words


The things i Love in my life... My Girls, My Guys, College, Hairdressing, Strawberries, My work, Bikinis, Cuddles, Festivels, Oreos, Fake Bake, Primark, Milk, DKNY, Shoes, Reggae Reggae Sauce, GHDs, Barry M, Kisses, Lipgloss, Cider, My Ipod, Frenchies, Toy Story, Diet Coke, Pay Day, Chelsea FC, Superdry Tracksuit, Peanut Butter, The Beach, The Strokes, Slippers, Body Oil, Pictures :)

From Now On...


Its all about me, my family and my close friends.


Comments
10 of 167 | post a comment | view all

oliverstrainers

wrote...

The Strokes, yes!
send message

lew_10

wrote...

yeah whats your msn? i havent been to ice for a few months either, its so shite there now!x
send message

fitathleticj

wrote...

Hey misss.
Hows your day xx
Ax
send message

diamond2915

wrote...

ding dong girl how are you doing? x
send message

amie_ayanami

wrote...

hate to repeat someone else's comment, but it is a shame you're straight ... lovely profile hunni, and you're gorgeous too, it's so unfair :P xx
send message

peyorativa_05

wrote...

thx for the comment, shame ur straight :P aha xx
send message

painter89

wrote...

ding fucking dong!
seeeeriously hot, fuck what your mum says, take them off haha :) xx
send message

colinm45

wrote...

u are honestly the perfect girl! xx
send message

thiggymejig

wrote...

:)
send message

thiggymejig

wrote...

I think im in love with you.
send message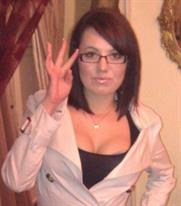 offline

Send message
Add friend
Add to hotlist
Rate member
Report member
one 2 one
View photos (58)


Favorite Things
Food
I Love Sweets and Sausages! Not Together Though!
Music
Anything.. And literally everything.
TV Show
Hollyoaks, Family Guy.
Movie
American Pies, Human Traffic, Layer Cake
Author / Book
Lindsey Kelk
Night Club / Bar
Oceana, Bliss, Lakotas. Any really.
Animals
My Dog Harvey.
Person
My Family and Friends.
Place
The Beach
Possession/Thing
Life :)

Details
Last logged onCool Tools™ only
Advanced statsCool Tools™ only