Name:
lilly_munchbox
Details:
29 years old (Leo), Female, Single, Straight
Location:
Staffs, Staffordshire, United Kingdom
Profile Link:
www.faceparty.com/lilly_munchbox


In my own words


Just for the record I'm the original I'm lilly,,, I have two fakes,,,
Miley_mike_mike & kapoow_emo.

,,,,Befor we start,, DON'T call me Hunni, i'm not sweet.

Well, i started off as an egg in my mothers' ovary and one day i was released and sent to her womb.
Not long after i was penatrated by a sperm cell and embedded into the lining of her uterus.
Throughout the following 9 months i grew and grew and grew until the early hours of August 11th 1991.
And then... BOOM!
That's when it all started For lilly Rachel

I have no self control.
I'm beginning to appreciate things.
I'm Tattooed,
I'm Pierced,
I'm Not your average kinda girl,
I'm everything you may not want me to be,
I laugh at things that arn't funny,
I'm a poser and somewhat vain,
I laugh,
I cry,
I Winge,
I Moan,
I hate repitition,
I hate disbeleif,
I hate everyone in Nottingham,
I like music that evokes emotion,
I like to eat pringless until i'm sikkkk,

The Meaning Of Life...


The Meaning Of Life...

I like exciting things, and lots of them.
If in doubt Wink, Peace and Pout.
It's simple.Just don't worry.Just Don't.

Am i loud and clear or am i breaking up?
Am i still your charm or am i just bad luck?
Are we getting closer or are we just getting more lost?
Ill show you mine if you show me yours first,
Lets compare scars ill tell you whose is worse.

Comments
1 of 1 | post a comment | view all

_i_r_jamesy_

wrote...

__
awww arnt you nice _ ;D
i had TOAST then went to bed :)
im sleepy :(
send message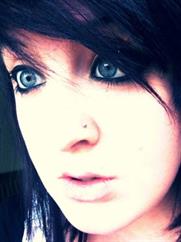 offline

Send message
Add friend
Add to hotlist
Rate member
Report member
one 2 one
View photos (11)


Favorite Things
Food
Cheese, Tomato Soup && Chicken NOM
Music
Greb Music Chav Music Trancey Dancey Music
TV Show
Mighty Boooosh (:
Movie
Thomas The Tank & The Magic Railroads
Person
Your Dad (:
Possession/Thing
My Apple

Details
Last logged onCool Tools™ only
Advanced statsCool Tools™ only