Name:
jojo
Details:
36 years old (Cancer), Female, Single, Straight
Location:
clevedon near bristol, Somerset, United Kingdom
Profile Link:
www.faceparty.com/jojo2985


In my own words


Strange person with funny, witty and mad personality.loves shoppin ciniema and eatin out. lookin for nice, funny people to meet an chat 2, maybe lookin 4 real love.xxxx if u like the look of me then message me i will try to reply.xx jus like to say, behind all the pics is the most caring, honest, funny, easygoing, generous, confident, genuine, all or nothin kinda girl! hi its me! wooohooo! yep i still like prawns and lamb passanda. jus wanted to mention that i am gettin rather bored on here, there really r some real psycho pervs on here and i dont want anything to do with any of them! xx i lookin to settle down, dont want to be single anymore xxx ta ta 4 now xx have msn if u wanna chat, its [email protected] add me, please only nice people, i dont like being bitten.... well i do really! xxx

Blog
5 posts | view all
so funny, thank god 4 windows!

well day after new windows fittted, i managed to lock myself out my flat. i went to put rubbish out, 4 got to put latch on door and it slammed like it had locked, oh shit! didnt have ne ting on me but the clothes i was wearin, saw windows were open so i started to climb on windosill, thinkin everybody in the culd-de-sac is watchin me, tryin not 2 piss myself laughin! i threw my filp flops in by that time so i had to get in some how, eventually i did with my arse in the air, fuckin unbelievable!

My Best Day...


WHEN ENGLAND WIN THE WORLD CUP AGAIN!!!! i will go skits and bananas at the same time, acting like a gorrilla on heat!lol roll on 2010! ! ! !


Comments
10 of 52 | post a comment | view all

mm19

wrote...

hey babe
oh damn arent you hot
how r u today?
xx
send message

stifflermccracker

wrote...

Hey Jo, i bet you get told that your sexy and hot and all that shit everyday from dudes on here. Bet your all like, oh not another one!. But i just wanna say this, after seeing your comment and checking you out, i have to say that in all honesty, you have to be the finest woman on here. Seriously, its your smile, its radiant and infectious! I aint being a weirdo here or owt. After seeing your pix apart from the obvious sheer fuckin hotness. You look like a fun lassy with personality and i think
send message

stifflermccracker

wrote...

Cheers! Just checked your profile and DAYUM! your one sexy lady! x
send message

funtimebaz

wrote...

you are stunning i love to take you out xx
send message

lovetolick2102

wrote...

think im in love with that body ;) how u doing sexy xx
send message

sparks-may-fly

wrote...

hot...and lovely pics :) xxx
send message

w3_oly

wrote...

babe ur hot. Ur pic makin me horny babe
send message

a33272

wrote...

a very pritty lady x
send message

dj-cossie

wrote...

mmmm Gorjus
send message

jimbob_11

wrote...

i love you cxxx
send message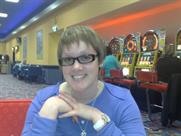 offline

Send message
Add friend
Add to hotlist
Rate member
Report member
one 2 one
View photos (95)


Favorite Things
Food
tescos prawn salad! italian, chinky, passanda
Music
timbaland,fabulous,50 ,kano,JT,kanye,lupe fiasco
TV Show
my family, jonnathan ross,family guy
Movie
hostel1&2, happy feet,grudge1&2, little man
Author / Book
tennis ace mag count?
Night Club / Bar
vision mainly : |
Animals
pussy cat def
Person
is me at the mo, bit lonely
Website
Click here to view
Place
wimbledon an australia
Possession/Thing
phone,car,ghds,laptop , ipod, trainers!

Details
Last logged onCool Tools™ only
Advanced statsCool Tools™ only