Name:
Wendy
Details:
48 years old (Scorpio), Female, In Relationship, Straight
Location:
Hove, Brighton., East Sussex, United Kingdom
Profile Link:
www.faceparty.com/wendysworld2008


In my own words


Dont ask for no strings fun, cams etc as I wont be up for that, dont be mistaken by my pics, I just like looking and being looked at! I'm here to do NORMAL CHAT NOT MEET OR FUCK, so lets have a giggle. Right...I'm a full time mum of 5 kids, I work part time and am on a part time course in 2nd year of BSL (sign language), I volunteer, and am now doing my second year of AAT. (Accountancy course). Me? Am complicated and awkward but honest. Hard work, loyal, loving, jelous, stressy, arguementative, passionate, opinionated, stubborn, kind, intelligent, and lots more besides. People generally love me or hate me, no inbetween! Marilyn Monroe is the Ultimate woman, Man Utd are THE Team and Police have one of the hardest jobs, with no thanks.

Blog
5 posts | view all
Kids!

Soooo happy to be pregnant. Turns out am due Christmas Day yet again! Jesus Christ! lol

In A Perfect World...


Men wouldnt lie, cheat and be fake!


Comments
10 of 2253 | post a comment | view all

ringwooder10

wrote...

Hiya gorgeous! Long time no speak, how's you been? Xx
Still looking good I see ;-) xx
send message

oralgod1985

wrote...

Hi, how are you? You are so beautiful, I know you get 100's of messages saying that every day but it really is true you are a beautiful woman and I would love to chat sometime :) dont really know what else to say, would be lovely to chat though :)
Mail me - I dont bite x
send message

calibrand

wrote...

Any big weekend plans?
send message

calibrand

wrote...

How are you gorgeous???
send message

buffalli23

wrote...

how good do you look bent over? ;-) xx
send message

pro_footballer1

wrote...

Hi there sweetie,
Just seen your profile and pics and what can i say apart from you are gorgeous and quality too.
If you like what u see and read and fancey a chat then msg me babes...
Take it easy
Gaz
x
send message

calibrand

wrote...

Hi Wendy, hope you had a better weekend and aren't feeling so crappy! X
send message

aj_no1

wrote...

im good babe. oh no how come your housebound? x
send message

aj_no1

wrote...

im good thanks babe! you get up to much over the weekend? x
send message

manc_lad88

wrote...

You could come n work for me but I'd never keep my hands of you x
send message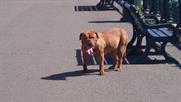 offline

Send message
Add friend
Add to hotlist
Rate member
Report member
one 2 one
View photos (29)


Favorite Things
Food
Roast, Jamaican, Chinese, Indian, Italian n CAKE
Music
R&B, Hip Hop, Grime, Bashment, DnB.
TV Show
Dexter, soaps, scrubs, csi, comedy shows, crime.
Movie
Saw films, Jet Li, action and any great comedy
Author / Book
autobiographies & true crime books.
Night Club / Bar
Anything with Bashment, R&B. The Granaries!
Animals
My dogs, cats, snakes, rabbits, gecko's.
Person
Dexter....
Website
Click here to view
Place
WENDYSWORLD!
Possession/Thing
HONESTY, LOYALTY & PASSION.

Details
Last logged onCool Tools™ only
Advanced statsCool Tools™ only