Name:
freyaghettofab
Details:
35 years old (Gemini), Female, Single, Bisexual
Location:
Meanwood. LEEDS, West Yorkshire, United Kingdom
Profile Link:
www.faceparty.com/freyaghettofab


In my own words


Yo... am Freya.. 21... bi..

if u dun know
get 2 kno :]

music is actually my life..

DUBSTEPPPP. BASSLINE. HARDCORE! (bonkers stylee) RAP. 4x4. ACID TEKNO!. GRIME. DUB! HIP HOP!!! D&B (JUMP UP, TECH, LIQUID). REGGAE ! DANCE HALL !SKA. MIN TECH & HARD & FUNKY HOUSE. SPEED GARAGE. NRG. POP PUNK. DANCE. TRANCE. JUNGLE. GOA. BREAKBEATS. HARDSTYLE. 'FRANTIC EUPHORIA'.

HEADHUNTER!!!! JEHST! CRACK HOUSE RECORDGINGS!! BREAKAGE! JAYLINE! NOISIA! JOKER!! RUCKSPIN! MRK1, SUBFOCUS, UNTOLD, D-BRIDGE, BURIAL, TC, DILLINJA, HEIST, HYPE, CLIPZ, HIGH CONTRAST, ORIGINAL SIN, NORTHERN LIGHTS, PLAN B, DEVLIN, SMOKIO, NICKY BLACKMARKET, ICICLE, TES LA ROK, SILKIE, HAZARD, QUEST, JACK SPARROW, BABYSHAM, LOEFAH, DIRTYPHONICS, DISTANCE, HENNY G, RAMADANMAN, DIGITAL MYSTIX, KROMESTAR, BABYLON SYSTEM, PLASTICIAN, MLK, SUBSCAPE, CRISSY CRIS, CUTZ, COKI, SUBLIME, MAMPI SWIFT, WARRIOR QUEEN, MUNGOS HIFI,

My Pet Hate...


fakes


Comments
10 of 51 | post a comment | view all

4evacat

wrote...

heya babes,
u ok??
cud we chat?? ur choice oviously lol ;0
u doin much this weeknd??
gota say ur absoutely gorgeous and sooo pretty XXX
send message

gimme_sum_skag

wrote...

Time to get-GRY-MEHHHH
send message

4evacat

wrote...

heya babe,
u ok???
jus came across ur profile and thought u were soo soo pretty :):) and then thought id have alittle nose and read and u sounded well sweet and fun ;)
sooo hopefully ull think the same of me oviously not pretty lol but nice looking wud be good lol haha,
u havin a gd week sooo far?? xxxx
send message

david_ooh

wrote...

Boo long time no speak!
Did you ever get the sub wired? :P x
send message

nirishlad

wrote...

Hey what's up, don't worry I'm not your usual ass kisser who starts their message with hey babe, your beautiful or looking gorgeous, totally stunning. I have class.
How about have a proper chat with ME instead, I will make it worth your while.
send message

daz_u

wrote...

very cute huni shame u aint single
send message

maddrummergirl

wrote...

Verrryyy nice :)x
send message

ruggedmiller

wrote...

hi gorgeous x
send message

nohands

wrote...

JESUS is the ONLY Way To Heaven
Youtube - They Sold Their Souls For Rock And Roll
send message

k1889sufc

wrote...

Trance should be 1st in that list :p
send message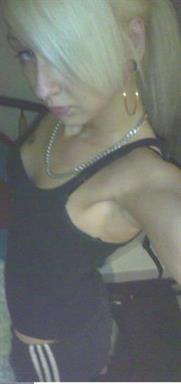 offline

Send message
Add friend
Add to hotlist
Rate member
Report member
one 2 one
View photos (49)


Favorite Things
Food
coco pops
Music
DUBSTEP!! grime, reggae, dub, DnB etc
TV Show
black books, skins, shameless family guy
Movie
cicade de deus, ! south west 9.
Author / Book
stephen king, james frey
Night Club / Bar
mill / west indy
Animals
birds!
Person
my boiz.
Website
Click here to view
Place
cyprus
Possession/Thing
clit piercing, obv.

Details
Last logged onCool Tools™ only
Advanced statsCool Tools™ only