Name:
Roxy
Details:
34 years old (Aquarius), Female, Single, Straight
Location:
southampton, Hampshire, United Kingdom
Profile Link:
www.faceparty.com/foxyroxy666


In my own words


im a down 2 earth gurl luvz ma gurldem an mandem lol fukin hardcore freak daren styles, dj hixxy, dj re-con, brisk, breeze, stlyes, seduction, dj dougal, mc storm, dj sy, scott brown, wizkid H.T.I.D dunno wot 2 say realy,I have held it down for LONDON 4 17 years an southampton 4 2, I have time for my famlee, i luv hardcore, I have a cat named china, I love mumzie's cooking, I love all my close mates, I love pitballs, I love apple juice, I love the rain, I love anything to do with pink, I love fridays, I hate Mondays, I hate people who harm kids an animals, I hate hang ovas (rite now i am experiancin i think da worst 1 eva), I hate fish, I hate the greedy goverment, I hate chickens, I hate steriotypes, I hate bad vibes, I hate ignorance, I hate people with no manners, music is my first luv it will always b my last. I am me...ROXY...you can not change me x-x-x-x-x-x-x-x this fing is shit get bebo lol http://lil_tease_666.bebo.com

My Dream Date...


sum1 hu can put up wid ma stupid sence of humer has 2 b funny and aint 2 serious about fings sum1 i can chill wid i aint got no stupid hobbys like horse ridin or art or readin lol i do most boys stuff so all ma m8s r bois an i luvz ma boyz 2 bit if sum1 cldnt deal wid it den they can do 1, i dont like goin 4 meals an stuff BORIN id rather go pub has 2 b a party person an ovi LISTEN 2 HARCORE an a raver!! aint realy fussy lol an not realy lookin eather!! loool


Comments
10 of 27 | post a comment | view all

nige0160

wrote...

hey ya allright hows you on this mighty fine day??
send message

angelmidfall

wrote...

lmao! your profile comments are soooo funny!
send message

zand22m

wrote...

hi am in southampton soon your sexy xxx
send message

harris666

wrote...

so sexual :D lovin the profile.. fancy a chat let me know :D xxxx
send message

madnutt

wrote...

hi gorgeous!
how are you today?
Michael
send message

toocans

wrote...

hi mate how you x
send message

3faze

wrote...

dont forget Ultrasounds drum n bass, friday 18th april at el paso bar old st london
its free all night long!
for more info email
[email protected]
myspace.com/ptproductionslondon
myspace.com/djfazehard core
send message

keyunit

wrote...

hey hows it going sexy have you got msn?x
send message

tommyodelly

wrote...

wot a fucking fitty
send message

exorbabe

wrote...

OMG lukin like U, I'd fuckin top myself. U, G, L, Y u ain't got no alibi. YOUR UGLY!
send message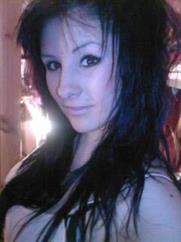 offline

Send message
Add friend
Add to hotlist
Rate member
Report member
one 2 one
View photos (76)


Favorite Things
Food
duno as long as it aint green lol
Music
stupid question lol H.T.I.D
TV Show
SHAMLESS family guy bad lads army dunno
Movie
green street, football factory, kidulthood,
Author / Book
wot!!!
Night Club / Bar
bar 31 pikon jj's
Animals
Tiger
Person
mother
Website
Click here to view
Place
wereva da party at lol
Possession/Thing
mobile makeup credit card m8s bed

Details
Last logged onCool Tools™ only
Advanced statsCool Tools™ only