Name:
keefy
Details:
34 years old (Cancer), Male, Single, Straight
Location:
Sunny viewpark, uddingston, Scotland, United Kingdom
Profile Link:
www.faceparty.com/cmon_the_scots


In my own words


Hey im keith, 20 yr old mobile mechanic from edinburgh, i like anything thats slightly weird, often turned on by done up cars, and anything with an engine and a bit of speed behind it, im pretty genuine, full of sarcasm, i laugh alot, mostly at peoples misfortunes, im pretty honest, honesty is the best policy but not always for the right reasons, Im loyal and true, incompatible, and reliable. im usually every1s opposite, not always a bad thing, i prefer to differ, anyways im babbling on here,
P.S i like to chat, (you've probably already noticed)

My Eternal Dilemma...


i dunno why i act the way i do like i aint got a single thing to loose, sometimes im my own worst enemy, i guess thats just the cowboy in me, the first to run the restlessness, the heart of stone i sometimes get, the things i've done for foolish pride, for me that's never satisfied, the face that's in the mirror when i dont like what i see, i guess that's just the cowboy in me.


Comments
7 of 7 | post a comment | view all

sheffieldbitch

wrote...

nice xx
send message

xx-von-2k7-xx

wrote...

ran out of messages lol, what u been up to the day? x
send message

liil_rayva_babii

wrote...

FIIT ;D
X.X
send message

lil_mizz_moody

wrote...

all i want is you ya stud!!
send message

emmmily

wrote...

Heyy you got msnn ??
x
send message

xxxfitbichxxx

wrote...

lovin ur pik n ur prof babes, very sxc!
xXx
send message

saz19o

wrote...

its kl al let u off this time, stayin at saughton jst now u ? xx
send message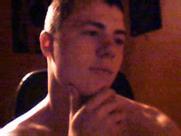 offline

Send message
Add friend
Add to hotlist
Rate member
Report member
one 2 one
View photos (26)


Favorite Things
Food
anything with chips.
Music
rock, indie, dance, old school trance, mcfly
TV Show
scrapheap challenge, real football fone in!
Movie
fast n furious 1,2 ,,, gone in 60 seconds
Author / Book
My life is 1 big book being written in motion
Night Club / Bar
a nice quiet pub suits me fine sir.
Animals
white tiger... ferrits
Person
mum n dad, and friends.
Website
Click here to view
Place
Edinburgh the land of dreams (where abouts) lol.
Possession/Thing
cars, mobile, tool-box

Details
Last logged onCool Tools™ only
Advanced statsCool Tools™ only