Name:
Lydia Carmody
Details:
32 years old (Sagittarius), Female, Single, Open Minded
Location:
Surrey, United Kingdom
Profile Link:
www.faceparty.com/cleanyoungmess


In my own words


Life pretty much goes like so...
Family, Friends, Fun, Faith, Hope, Happiness, Love, Luck, Beauty, Blackberry, Bed, Boots, Cuddles, Kisses, High-tops, St. Tropez, Sunbeds, Holidays, Swimming, The Zoo, The Chase, Jokes, Laughing, Simple Texts, Getting To Know Someone, Channing Tatum, Josh Harnett, Vin Diesel, Hand Cream, Nails, Mac, Bed Head, Sleep, Cocktails, Jessica Alba, Lucozade SPORT, Skins, Megan Fox, Twilight, Sunsets, Jeggins, Check Shirts, Pictures, MANCHESTER, Urban Outfitters, Russel Brand, Noel Fielding, Rick Edwards, Dancing, Notebook, Family Guy, Simpsons, Click, The Lion King (Y)

My Mum Says...


Hold your head up high babe, don't let them get you down. Throw back whatever they throw at you and stand tall. Don't let anyone make you doubt yourself, you are perfect in your own ways and thats why the people that mean the most love you


Comments
10 of 60 | post a comment | view all

dunby6

wrote...

hey hows you wht you upto i was also looking at ur profile and reall like wht i seen and was wondering if i could intrest you in a chat sometime
send message

xxdreamboyxx

wrote...

Lydia...xxx
send message

rob619619

wrote...

Hi. How's it going gorgeous? Fancy a chat some time? x
send message

0000050000

wrote...

hello gorgus how are you hun, would lke to add you to msn if thats ok can you send me yours :p
send message

selondonlad22

wrote...

lol clean young mess wat a name lool x
send message

itssteviev

wrote...

hellooo u ok? x
send message

teabag4eva

wrote...

you look bloody amazin ! x
send message

teabag4eva

wrote...

wow xx
send message

lethaljimmyb

wrote...

U are stunning :) hehe J X x
send message

h699

wrote...

hey gorgeous u orite , im from miiddlesbrough n im a fitness instructor u fancy a chat sumtime ?
send message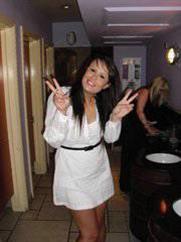 offline

Send message
Add friend
Add to hotlist
Rate member
Report member
one 2 one
View photos (61)


Favorite Things
Food
Marmite...I love a ham sandwich :)
Music
I like a mixture
TV Show
Runs House, Family Guy, Lie To Me...
Person
My Baby Girls, <3Taylor-Jade & Paige-Amber<3
Place
Manchester
Possession/Thing
Blackberry and IPhone

Details
Last logged onCool Tools™ only
Advanced statsCool Tools™ only