Name:
Bob
Details:
39 years old (Sagittarius), Male, Bisexual
Location:
Blackpool but im from Glasgow, Lancashire, United Kingdom
Profile Link:
www.faceparty.com/caseychaos666uk


In my own words


ok the bands i listen to here goes FAITH NO MORE,Pearl Jam,lamb of god,the birthday massacre,lady gaga, lizzie borden, skrillex,skid row, Within Temptation,The Theory,Nightwish,led zepplin,Trivium,Mutiny Within, Bullet for my valentine,Children Of Bodom, velvet revolver, Amen,Coal Chamber,Fear factory,Machine Head,The Killers,Queen,Duran Duran,Killing Miranda,Gary Numan,30 seconds to mars,Marilyn Manson,Adam Ant,2 many DJs,Nekromantik,Katscan,slipknot,sto n e sour,Dry Kill Logic,pink floyd, ,The Cure,Tool,Sisters of Mercy,Creed T-Rex,Apoptygma Bezerk,ill nino,RHCP,Covenant,Razed in black,wolfshiem,Icon of coil Orgy,Type O Negative,Spineshank,Ozzy,A Perfect Circle,Alice Cooper,One Minute Silence,Rammstein,My Ruin,KoRn,Pantera,Prince,Drown ing Pool Boy Hits Car,Tura Satana,Slayer,Incubus,Static X,White/Rob Zombie,Disturbed,SOAD,RATM,Aud ioslav e, Soulfly,Nine Inch Nails,Cyclefly,Deftones,Godhea d , Ho l e,AFI,to many to mention argh

This Week's Plan...


is for you to add me to MSN, ([email protected])


Comments
4 of 4 | post a comment | view all

lildanyell

wrote...

haha, you're the first person to guess right, someone said goodfellas? :S LOL.
And Machine Head are immense, Robb Flynns voice is like, the sexiest thing ever haha
yeah i'm alrite taa, you? x
send message

ms_switchblade

wrote...

lalalalalalalalalalalaaaa
send message

giddy_up_boi

wrote...

nice tattoo
send message

placebozgal

wrote...

very smexi xxxx
send message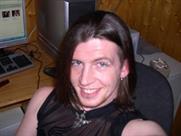 offline

Send message
Add friend
Add to hotlist
Rate member
Report member
one 2 one
View photos (40)


Favorite Things
Food
MEEEEAT!!
Music
see above :D
TV Show
Borat,friends,Bottom, young ones,M.T.V2
Movie
The Crow,Lost Boys,Blair witch movies,r.h.p.s
Night Club / Bar
The Tache,Flamingos,Jenx,
Animals
Chimpanzee
Person
My beautiful daughter Annalise born 2/7/05
Website
Click here to view
Place
Bed,pub,
Possession/Thing
my mind and my Music

Details
Last logged onCool Tools™ only
Advanced statsCool Tools™ only