Name:
baybeebecks
Details:
38 years old (Scorpio), Female, Single, Straight
Location:
Ash, Aldershot., Surrey, United Kingdom
Profile Link:
www.faceparty.com/baybeebecks


In my own words


Im 5ft 6, Blonde hair, Bright blue eyes, a big curvatious figure..Im Fun, bubbly & like to have a laugh!! I dont take life or myself too seriously & im always up for a good time at a club a party or just at mine with some mates! I love to be spoiled & treated like a princess :) Xx.Loves.xX - Hair extentions, eyeliner, lipgloss, music, mixed race men, reality tv, hair straighteners, fake tan, holidays, shoes, dancing, nail extentions, my mobile, vodka & Cherryade, Gold jewelery, dance movies. Xx.Hates.xX - Jealousy, cheats, Liars, Bitches, playa's, perverts, classical music, grungers, EMO's, the Tube in rush hour, having no money, winter, drunken fools.

In A Perfect World...


Men wouldnt cheat, id find a nice decent man to spend my life with & id have a never ending cash flow =]


Comments
10 of 57 | post a comment | view all

macksy65

wrote...

looking nice u ok! u got much planned the weekend xxx
send message

skitzin1

wrote...

peng
send message

jamal_blazed

wrote...

yeah it was ok thanks...u on msn doll? x
send message

jamal_blazed

wrote...

gd weekend b? x
send message

seanyboy21

wrote...

baby can u tx me lost ya num??? x
send message

samedwards17

wrote...

nice eyes :) x
send message

moya121

wrote...

hi how are ya?
send message

all_eyes_0n_me_

wrote...

yhyh i is ight x nm init jus chillin x yh msg me yu's x
send message

all_eyes_0n_me_

wrote...

Whats Popping b x U kl? x
send message

shell22

wrote...

Hiya,
How you doing? xx
send message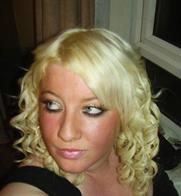 offline

Send message
Add friend
Add to hotlist
Rate member
Report member
one 2 one
View photos (7)


Favorite Things
Food
Chinese
Music
Dancehall, RnB, Bashment
TV Show
Love my Soaps & Reality tv
Author
Steven King
Movie
You got served, Stomp the yard, Step up 1&2
Night Club / Bar
Oceana, Kingston.
Animals
Love Staffs =]
Person
Chris Brown = Banging!
Website
Click here to view
Place
London
Possession/Thing
My lil Girl, my Jewelery, ipod, & Pc

Details
Last logged onCool Tools™ only
Advanced statsCool Tools™ only