In my own words


My name's Dominique-leigh
if you're after another epicly dull boring girl with long blonde hair and big boobs who likes to listen to "R&B,Hiphop,Rap,Dance' and who wears exactly the same clothes as thousands of others, is too scared to be different, then i'm not for you.

I'm now representing my country in the sport i love. Olympic Freestyle Wrestling. If you wish to no more, google it, ask jeeves or ask me. 2010 is gonna be big for me, travelling internationally competing, austria, poland, switzland bulgaira & hopefully bring back great britian a medal from the commenwealth games.

I'm a kind-hearted,sensitive person. this doesn't give you permission to take advantage or attempt to break my heart.

I love nights in under a duvet watching typical bloke moovies, which involve violence,sex and cars. Or nights out to quiet cocktail bars on deangate locks. However my staying out all night till 7am party days arn't over just yet ;]

This Week's Plan...


WON BRONZE IN FINLAND. AMAZING COMPETITION. GOOD STANDARD. ROLL ON SWEDEN , AND RUSSIA NEXT YEAR. FOR NOW, STOCKING UP ON LOTS OF CHRISTMAS FOOD, AND PLENTY OF WINE :)


Comments
10 of 365 | post a comment | view all

legswideopen69

wrote...

gorgeous xx
send message

memphisssexy

wrote...

Aloha, how r u?
Nice pics by the way, you are blessed with ridicolously stunning eyes....
Why u in on a ban holiday weekend then?lol
Got a million dollar question for ya?
If you had to choose between a guy who had....
Good looks, money and personality? or....
Gd body, big dick and a nice car.... what would u choose and why, honestly?lol
message back
send message

ficole

wrote...

add me to msn [email protected] lets chat hun xx
send message

chasarh123

wrote...

truth is your stalkin me lol x
send message

dan86mcfc

wrote...

boom boom boom i want u in my room hahaaaa....
i would very much like to flirt with u my baba!! xx
[email protected]
wots urs hunny bun?!! :D
n ur face is fine art by the way, mmmm MMMM :p
send message

shegoesarountheworld

wrote...

Alright lad x
send message

ticklemc69

wrote...

hey, u ok?x
send message

mzshorty

wrote...

hei, nice profile :)
send message

danifnottoday

wrote...

hey :) looking stunning hope ur ok
xxx
send message

irish_zara

wrote...

hey hunny thanks for the comment, wona catch up and chat sumtime? ;)
wb xxxxXXXXxxxx
send message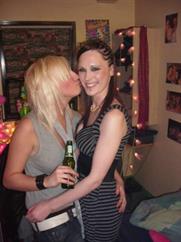 offline

Send message
Add friend
Add to hotlist
Rate member
Report member
one 2 one
View photos (69)


Favorite Things
Food
Pasta.
Music
DUBSTEP/DRUM&BASS/ELE CTRO
TV Show
Lost , Heroes , Skins.
Author
Jk Or Danielle Steal.
Movie
Saving Private Ryan , Boys Dont Cry , Notebook.
Night Club / Bar
View, Ba bar, The Bar, Bar Chic, Queer
Animals
My Alfie <3
Person
Mother
Place
On The Mat Or In The Gym
Possession/Thing
My Board, Boots, Phone + My Imagination

Details
Last logged onCool Tools™ only
Advanced statsCool Tools™ only