Name:
Chris
Details:
33 years old (Libra), Male, Single, Straight
Location:
Falkirk, Scotland, United Kingdom
Profile Link:
www.faceparty.com/anjuna_beats


In my own words


For those that read, the "perfect partner" bit above had shite grammar because i had ran out of space! lol

Im Chris, 19, I work at a smallish bar near home part time, because either there is some problem with my phone and/or my email, or recession is a real thing/word.

I need a job!

Apart from worrying about that; I do enjoy a drink, but who doesn't. I'm a very approachable person at times (only when i'm not in a foul mood.) which is rarely. My main hobby in life is probably music, it used to be something i listened to but it has gotten to the "hobby" stage. I love creating it and listening to it, favourites of mine: Dirty vegas, velvet underground, 009 soundsystem, pink floyd, the beatles (older stuff), Underworld, U.N.K.L.E, Moby, New Order, The Stone Roses, The Bravery, Leftfield, Dire Straits, Deadmau5, Chemical Brothers, Interpol, Bloc Party, Beck oh and Air. I like finding music too! Message to know more!


Blog
*Yawn*

Its almost sleeeepy time:)

My Mum Says...


"AGHHH!! AM JUST 5 MINUITAS IN THE DOOR! AN'....so on....for the next half an hour.

No half as bad as ma dad ! HAHA


Comments
10 of 12 | post a comment | view all

youknowyouwantitbad

wrote...

ano still seein the bf :) xx
send message

youknowyouwantitbad

wrote...

aw thankyou love! Your still looking very nice! still single tho? x
send message

youknowyouwantitbad

wrote...

ano i dont have a lot of chat on here these days. Loads of work been out a few times n that aswel :) Hows life?x
send message

xspannerx

wrote...

thankoo for the comment hun xx
send message

thatgemgirlx

wrote...

Ha well, I do try!
send message

x-posinforlife-x

wrote...

no messages *sigh*
ofcourse al help ya :P
aw christmas is always fun :P
ooo puppies! fun fun. what kinda dog dyu have? xo.
send message

memefinchy

wrote...

haha oi i actualy pure love that show so get it round ya.haha.x
send message

kat_em

wrote...

aha thnx for the comment hun :)
xx
send message

penfold-pants

wrote...

Don't say hate, it is well extreme!!
send message

penfold-pants

wrote...

Bebo is better ... that's so cute.
Bebo is shiz.
send message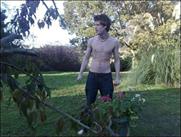 offline

Send message
Add friend
Add to hotlist
Rate member
Report member
one 2 one
View photos (11)
View videos (2)


Favorite Things
Food
Most things really
Music
Rock, Trance, Ambient, Electronic, House
TV Show
ACI, Soccer AM, Top Gear, Road Wars.
Movie
American Psycho,Rocky Films, How High etc
Author / Book
I read books but i dont have a fav author.sorry:(
Night Club / Bar
Insomnia!(Walking St Pattaya) and The Graeme
Animals
Dog and mukeez
Person
Mum:) My Brother and The Group
Website
Click here to view
Place
Thailand
Possession/Thing
My Phone and My Car

Details
Last logged onCool Tools™ only
Advanced statsCool Tools™ only