Name:
Alex
Details:
41 years old, Male, Single, Straight
Location:
Kent, Quarantine cell: 4208-B, United Kingdom
Profile Link:
www.faceparty.com/alexgriffin


In my own words


Pet dislikes:

- Spelling & grammar fit for toddlers
- Sticky cutlery handles
- Motorway signage
- Contemporary Hip Hop / Rap
- Fat Muscled skin heads who look like Shrek in a jumper
- Repeating myself
- Girls who purely got into Kings of Leon due to 'Sex on (bloody) Fire' ha!
- Materialism
- Chavs (well who doesn't?)
- Animal cruelty
- Folk who are ignorant to the joys of reading
- Repeating myself
- Sodding Snapchat filter fads!

(I'm sure there'll be plenty more on the way kids!)

Music Likes:

Air, The Beatles, Blur, Chemical Brothers, Cream, Daft Punk, Depeche Mode, Django Django, Doves, Elbow, E.L.P, Morricone, Fleetwood Mac, Gary Numan, Howard Shore, The Jam, James Horner, Jean Michelle Jarre, Jethro Tull, Julian Casablancas, Kasabian, Keane, Ladytron, Manic Street Preachers, Metallica, New Order, Oasis, Wings, Pink Floyd, The Prodigy, Radiohead, The Smiths, Strokes, Queen, Vangelis, Wagner


Blog
I survived Hurricane Sandy

Ummm, I pretty much summed it up in the subject title actually.

The Meaning Of Life...


Gather round children... For I shall tell thee


Comments
10 of 67 | post a comment | view all

sup3rkazza

wrote...

Hey x
send message

pippaxx

wrote...

Lol! Oh my god this site is a nightmare! I've gotta say though, you've not stop made me laugh this evening!! You're a funny guy! Are you on kik or Snapchat?xx
send message

pippaxx

wrote...

Sorry hun, I haven't got any messages left. Yeah it's crazy some of the stuff guys say on this site! Haha, no need to apologise! You've already made a much better impression lol x
send message

miss_murder_2007

wrote...

hahaha thought I recognised you! my profile got hacked and the company reset literally everything! i apologise for the coldness lmao!!
yeah i love going to the pictures too, cant beat it
but yeah I donlove a night in....depends on the drink and the company!
wow thats alot! i dont think i could manage to stand on them all xx
send message

miss_murder_2007

wrote...

Hahaha cute no, murderous maybe ;) haha x
send message

deanie90

wrote...

Snap, on a few of your music preferences :) x
send message

k8e_69

wrote...

Don't you dare! I'll report you to the faceparty police! Lol. (Ran out of messages) I know I need to catch up. I hav to watch it round my brothers though and it's hard to find a time wen we're both not working
send message

lizzie_babe69

wrote...

Don't mind me, just casually stalking away.... :-p x
send message

crimsonfeast

wrote...

What do u think about Legends soundtrack?I think most of it is by tangerine dream.have you heard of hawkwind?I have hippy/rocker parents lol
send message

downtown-abbie

wrote...

Do you know, I can't for the life of me remember?? All I know for sure is its all your fault, you started it, you're mean and I hate you! *hold me*
send message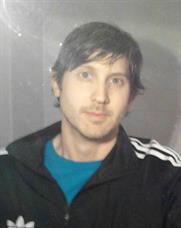 offline

Send message
Add friend
Add to hotlist
Rate member
Report member
one 2 one
View photos (25)
View video (1)


Favorite Things
Food
Chinese, Thai, Sunday Roasts et al
Music
Indie, Rock, Electronic / Synth, Classical
TV Show
Alan Partridge, Extras, Game Thrones, Father Ted
Movie
A Clockwork Orange, Alien, Sanjuro, Shawshank...
Author / Book
From Tolkien & Rowling to Dickens & Shakespeare
Night Club / Bar
-
Animals
Dog (mind you, Llamas are flying up the list!)
Person
Stephen Fry
Website
Click here to view
Place
Anywhere where there's an award winning sunset
Possession/Thing
The flatulent Goblin under my stairs

Details
Last logged onCool Tools™ only
Advanced statsCool Tools™ only